Delve into the glamorous world of Formula 1 with F1 2016. Put pedal to the metal and leave your rivals eating dust as you battle it out for the coveted 2016 F1 World Championship.
F1 2016 features the full 2016 season calendar of 21 tracks, including the all new Baku circuit, and all 22 drivers.
Compete as your favourite driver or create your own legend in the fastest and most thrilling F1 experience complete with stunning broadcast-style visuals for the ultimate experience.
Brand new manual race starts make for exciting racing – time your start to perfection to get ahead of your rivals.
Also new to F1 2016 is manual pit lane entry, brake in time to avoid any costly penalties.
Most Detailed Career Mode To Date
Spanning up to 10 seasons F1 2016 allows you to create your own F1 legend with the most immersive and detailed career mode to date.
The Complete F1 Experience
Racing has never been more realistic with the introduction of the formation lap, pit strategies and the return of the safety car – the most complete F1 gaming experience to date.
Get Cash For F1 2016
Not a fan of F1 2016? Or perhaps you've claimed the highly coveted F1 World Championship and left all your rivals eating your dust. Whatever your reasons for no longer wanting F1 2016 you don't need to leave the game collecting dust on a shelf in your bedroom.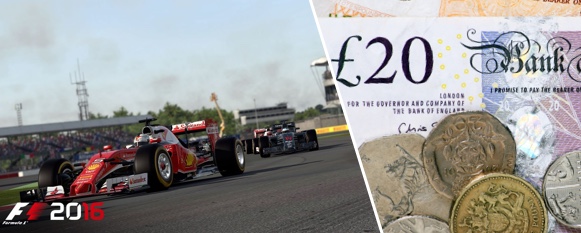 Instead you can sell F1 2016 online here at We Buy Games, simply head over to our selling basket to see how much money you could make.
Got any glitches you've spotted when playing F1 2016? Then share them on our Facebook or Twitter page.