"From Prey To Predator, you have one goal: survival in a world where you are the prey."
Jump into the Stone Age with the latest installment of the Far Cry franchise. Explore breathtaking environments, come face to face with massive beasts and experience savage encounters with fierce predators in your quest to conquer the land of Oros.
At a time when humanity is at the foot of the food chain your character, Takkar, is the last survivor of a hunting group, as you rise to become the leader of a tribe you'll learn to craft new weapons using the materials scavenged, hunt for food and fight mammoths, saber-toothed cats and other dangerous beasts whilst protecting fellow tribe members from enemy tribes.
Far Cry Primal is an exciting, exhilarating, adrenaline filled action-adventure game which guarantees to set your pulse racing. Experience the Stone Age like never before in a detailed open-world, which allows you to roam around with wild animals at your side and utilise your companion, an owl, to scout enemy camps. The animals you come across can be tamed to help you in your quest, each with their own special abilities.
Can you survive a world where you are the prey?
httpss://youtu.be/UEl0IT2A_U0
Make real cash from Far Cry Primal
Looking to make real cash from Far Cry Primal, well it's possible with We Buy Games, here's how…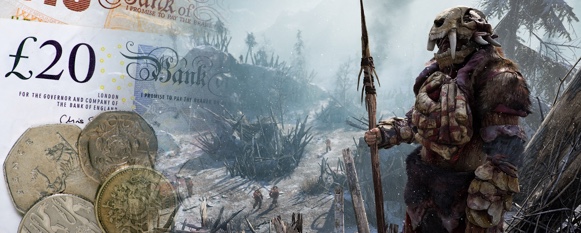 We provide a simple and hassle free service for anyone looking to sell unwanted games! Simply head over to our selling basket and see how much you could make from Far Cry Primal. We offer FREE postage, multiple payment methods and next day payments, making us the best place to sell games online.
Discovered a glitch or a funny video whilst playing Far Cry Primal? Get in touch via Twitter or Facebook and your video could feature in this post!