Immerse yourself into the world of Lego Star Wars: The Force Awakens. Come up against the empire, defeat the enemies that try to kill you, enforce your power and travel through the galaxies.
The storyline is action packed and fruitful, drawn from the blockbuster movie. It follows main characters Rey and Finn as they battle through the bluster of war, a war against a ruling hierarchy and with unique dialogue and animation. The game delivers a truly spectacular experience.
Come up against puzzles that utilize the character's abilities. Perform powers that are compelling, be pulled in by the boundless drama and comedic value, and collect pieces of Lego that will earn you valuable points. The game mechanics will allow you to do this flawlessly, with real ease and fluency.
There's plenty to do in Lego Star Wars: The Force Awakens. You can switch between characters and can use their attributes at full pelt. This mode offers great diversity and is ultimately extremely engaging.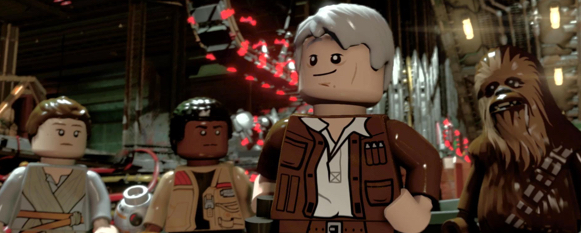 It's a fun game with supreme graphics that dazzle. Visuals that have been created to maximise the playing experience. It's also a game that will touch the core of the imagination. And it allows you to fall deeply into its epic and heroic story. Lego Star Wars: The Force Awakens is truly a title that expertly sticks to the formula of the movie with a touch of humour. With it being universal and with the franchise a popular phenomenon, the game will appeal to adults and kids alike. There's nothing stopping you from becoming a true Lego Jedi yourself.
Here's how to make real cash from Lego Star Wars
If you're not a fan of Lego Star Wars then don't worry, you can make real money with our hassle free service.
Offering the best prices on the web, free postage and next day payments We Buy Games is the number one place for anyone looking to trade in Lego Star Wars for cash. Head over to our selling basket now to see how much cash you could make.
Got a video or glitch you'd like to show us? Tag WeBuyGames in your videos on Facebook and Twitter.