Rise Up!
Kick, punch and grapple your way to victory in Street Fighter V, the fifth installment of the classic, side scrolling Street Fighter series.
Exciting battle mechanics deliver an adrenaline filled fighting experience whilst stunning visuals depict the next generation of world warriors.
The 'V-Gauge' is a new feature that builds up as players receive attacks. Three new techniques; V-Skills, V-Reversals and V-Triggers can be used to deliver damaging strikes to hapless opponents and the Stun Meter, which was introduced in Street Fight III, is now made visible under the health bars.
httpss://youtu.be/fJAuNd7cuu4
The game features 16 characters, 4 of which are new to the Street Fighter franchise, with more to follow. Each has their own unique collection of damaging moves and special attacks, which makes for unbelievable fight scenes.
Fight for fame and glory on the Cacpcom Pro Tour or challenge friends online and see who reigns supreme.
httpss://youtu.be/h-BWJ9fUE0M
For more exciting Street Fighter V videos head over to the official website.
How to make money from Street Fighter V
Fancy making real cash from Street Fighter V? Well it's possible with We Buy Games, here's how…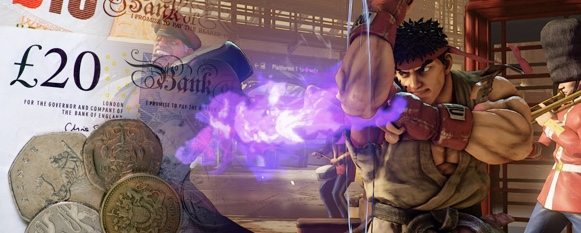 We provide a simple and hassle free service for anyone looking to sell unwanted games! Head over to our selling basket and see how much you could make from Street Fighter V. We offer FREE postage, multiple payment methods and next day payments, making us the best place to sell games online.
Discovered a glitch or a funny video whilst playing Street Fighter V? Get in touch via Twitter or Facebook!