When selling your games you will be given the option to help Special Effect by donating a percentage or the full amount of money generated by selling your games, CDs, DVDs and books.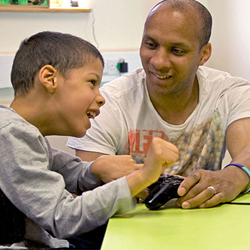 Special Effect helps people with disabilities to enjoy and play video games on an even playing field, using technology to create modified joy pads for individuals to play video games to the best of their ability.
We all love playing video games it's become a part of our culture. Instead of family movie night it's now family game night whether you're battling in mini-games in Mario Party or speeding around Spa in Forza 5 it's something we all love to do.
But what if you had a disability preventing you from enjoying video games. You would feel left out and frustrated at not being able to compete with your friends and family.
The Special Effect team are working hard to help everybody enjoy video games on an even playing field!
Who are Special Effect
Special Effect is putting fun and inclusion back into the lives of people with disabilities by helping them to play games. By using technology ranging from modified joy pads to eye-control; they're finding a way for people to play to the very best of their abilities. But they're not just doing it for fun. By levelling the playing field, they're bringing families and friends together and having a profoundly positive impact on therapy, confidence and rehabilitation.
Some of the amazing work Special Effect does:

We all have old games, CDs, DVDs and books lying around the house collecting dust, why not put them to a good cause? Donate now by selling your games, CDs, DVDs and books at We Buy Games and choose to donate all or a percentage of your offer to Special Effect and help people less fortunate enjoy video games in the same way we all do.

Images courtesy of www.specialeffect.org.uk