With Christmas just around the corner the video game industry has sprung into life with an influx of video games set to hit the shelves in the next few months just in time for the big day. So to help you select the perfect present this Christmas we've selected some of the hottest gaming releases to look out for…
Destiny
The most expensive game of all time was released earlier this year and it hasn't disappointed. Set in the far future Destiny combines first-person shooter and role-playing game play. Fighting your way through an enemy filled world you are tasked with reclaiming what mankind has lost. Its stunning graphics, gripping storyline and impressive game play mechanics make it one of the gaming releases of the year, and it's going to be red hot this Christmas.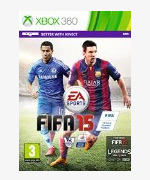 FIFA 15
Guaranteed to be at the top of most Christmas wish lists, FIFA 15 is the latest release from the EA Sports franchise and it's the best yet! Bringing football to life, FIFA 15 is the most realistic footballing video game to date.
Authentic player visuals, intense crowds and improved playing controls allow gamers to feel the emotion and intensity of the world's greatest sport. If you like football, you'll absolutely love FIFA 15!
Middle Earth: Shadow of Mordor
Calling all Lord Of The Rings fans, a video game has finally been produced that does the fantastic works of J. R. R. Tolkien justice! And what a game it is! Middle Earth: Shadow of Mordor is a unique fantasy experience as gamers uncover a brand new chapter in Tolkien's universe. Exploring the land of Mordor before it's transformed into the dark hell illustrated in the books and movies, you'll take on the role of Talion, a ranger who seeks revenge for the massacre of his family. Fighting new monsters and uncovering new surprises Shadow of Mordor will have all Lord Of The Rings fans licking their lips and rightly so! If there's one game on your Christmas list, make sure it's this one!
Call of Duty: Advanced Warfare
Rewriting the rules of war Call of Duty: Advanced Warfare takes a detailed look into the future of warfare whilst introducing a range of brand new gameplay mechanics such as covert cloaking abilities, grappling and boost jumps that have yet to be seen in previous Call of Duty titles. Aiming to be the most ambitious and fun Call of Duty to date, Advanced Warfare incorporates a slick new game engine and is rammed with all-new futuristic weapons and tech. Whether you're a fan of the Call of Duty franchise or not, we guarantee this game will have you gripped long after the festive period.
Drive Club
Exclusive to PlayStation 4, Drive Club is the ultimate next generation racing experience. Put yourself behind the wheel of some of the world's coolest cars from the world's biggest manufacturers and experience stunning racing across a number of real-world locations with exciting new challenges around every corner. Feel every inch of the road with high levels of detail and increased accuracy both inside and outside of the vehicles.
If you'd like to line your pockets with some extra cash in time for Christmas then why not sell your unwanted video games here at We Buy Games? We offer fantastic value whilst providing a fantastic, hassle free service which will take you, literally, a matter of minutes.
For more information on selling your unwanted games then feel free to contact us. Give us a call on 01706 248282 or get in touch through social media, we are active on both Facebook and Twitter so don't hesitate to get in touch!