Win a New Console this Christmas at webuygames.co.uk!
What could be better than playing the latest games on a spanking new console? Well, playing those great games on a spanking new FREE console might just be the answer. We could help you do just that. In our big console giveaway, we have five PS4 or XBOX One consoles, five Nintendo 2DS and five PSVita systems up for grabs. All you need to do is register with us at www.webuygames.co.uk/win or log in with your existing account and follow the simple instructions. You can even log in with your Facebook account if you like. Is that all there is to it? Of course not; there is always a catch and the catch is that we will give you £5 free on your first trade with us!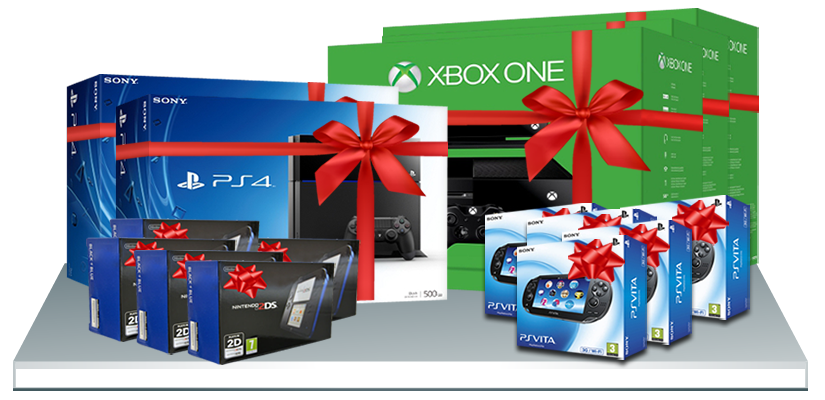 You always win with webuygames.co.uk
OK, we can't guarantee that you are going to win one of these cool consoles but we can guarantee a great deal on your unwanted games DVDs, CDs and books when you trade them in with webuygames.co.uk. These days, we all care about the planet but things have been a little hard on the pocket too of late. That is why trading in your stuff at webuygames.co.uk makes such perfect sense. This is the ultimate form of recycling. All those books, games, DVDs and CDs that are clogging up space on your shelves are just dying for a second life. Trade them in at webuygames.co.uk and soon someone else will be enjoying them, recycling all that enjoyment that you had. Even better, you get cash in your pocket to spend on some more of that great stuff you love.
It's easy with webuygames.co.uk
As you might expect from someone who makes entering a big console giveaway so easy, selling to us is easy too. Simply pick up your unwanted items, tap in the ISBN number or barcode on our website and we'll give you the valuation. We even give you a shipping label to print off and postage is absolutely free. After we check out your stuff we aim to pay within three days and we have a variety of payment methods to suit everyone.
We are sure that everyone will enjoy dealing with webuygames.co.uk and our big console giveaway is a great way to introduce you to our service and get you started. As you can see, our giveaway is open to existing customers, because we like looking after our people. Sign up now at www.webuygames.co.uk/win