Toying with the idea of selling used Lego online? Read on to find out what you need to know before you swap your figures for funds.
1. You can sell Lego by weight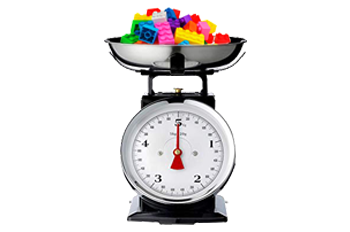 You may be surprised to know you can sell lego by the kg. rather than counting and categorising endless pieces.
In fact, it's so easy to sell loose Lego by the kg – simply bag it, pop it onto the kitchen scales and enter the weight online.
You might have to separate it into multiple bags if you want to sell a huge Lego collection, but it's still a quick, simple process.
2. You can get paid cash to sell used Lego
Offloading used Lego parts may be your priority, but have you considered what you want for it?
While some places trade used Lego in or offer a voucher to spend in-store, you can sell Lego for cash here.
Not only can you declutter your home, but you'll be paid for the pleasure!
3. It's free (depending on where you do it)
Many people sell Lego because they need cash – often fast. If that sounds familiar, choose a Lego sell site offering free postage. Otherwise, forking out for postage rapidly reduces your profit.
At WeBuyGames, we keep things simple, so we won't charge you to post Lego. When you've weighed your items, our website generates a free postage label to print and pop onto your parcel.
4. Sell random Lego pieces – or your entire Lego collection
Some Lego lovers amass and store huge collections methodically, while others have random pieces dotted around their home.
The good news is, you don't need to have hundreds of pieces in order to sell Lego online. We accept any quantity weighing a minimum of 0.5kg, therefore both big and small collections can be sold easily and quickly.
5. You don't need the original box
Many a Lego box is ripped open in excitement, so it's no problem if your pieces aren't in their original packaging when you sell.
No box, no dramas!
6. Pick your Lego sell site carefully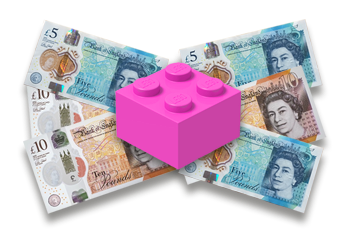 Selling Lego online is not the same experience wherever you go. Many Lego sell sites charge seller fees and postage, while others keep you waiting for payment.
Here at WeBuyGames, we pride ourselves on speedy payments and fantastic customer service – our "excellent" Trustpilot rating shows we do what we say we'll do.
7. Choose how to get paid
Now you know you can exchange Lego for cash, it's time to decide how you want to get paid.
When you sell Lego secondhand with us, we offer three payout options – bank transfer, PayPal and cheque. Select the payout method that's best for you, then sit back and wait for your funds to land.
We pay out as soon as we've checked your items, so you'll receive your money in a matter of days.
8. Your trash is someone else's treasure
It may seem like clutter to you, but when you sell Lego online it's easy to forget your used pieces are a treasure trove to someone else.
Before you reach for the bin bag, think about how you could help someone grow their Lego world and make yourself a tidy sum to use for something else. Win win!
9. Selling Lego online is better for the environment
Chucking out unwanted Lego might be tempting, but consider the impact all that discarded plastic will have on the planet.
91% of plastic isn't recycled, so adding more non-biodegradable waste to landfill is extremely harmful to the environment.
When you sell Lego online, you're supporting a sustainable economy and enabling other Lego fans to buy secondhand, rather than new.
10. It may become addictive
If you thought Lego was addictive, wait until you sell it online and see money building up in your bank account! The ease of selling will make you wonder what else you could sell to send your savings sky high. Fortunately, we're not just here to help you sell Lego online – we accept a host of other games, figures and more.
So, whether your purist or part-timer; AFOL or (the parent of) a KFOL, if your brick-building days have entered the Dark Age, we welcome you all with open arms and strive to make selling pain-free.
Now you have all the info you need to sell Lego online, there's no time like the present – start selling today!