Throughout the history of video gaming, film franchises have had a huge impact on games. With countless games adapted from or inspired by films of every genre from Batman to Barnyard. Even with so much competition the Star Wars franchise has shone through as one of the all-time best game inspirations spawning a multitude of classic games such as Star Wars battlefront first released on PS2, Xbox and PC, the legendary Lego Star Wars and the more recent release Star Wars: Squadrons.
We are going to look a little closer at the 10 games that we think lead the way in terms of Star Wars inspired games.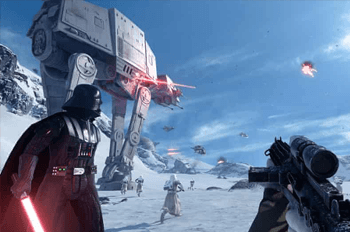 Star Wars Battlefront series

Developed by Pandemic Studios and LucasArts, Star Wars Battlefront was originally released on PlayStation 2, Xbox and PC in 2004. It quickly became a favourite of Star Wars fans and shooter videogame fans alike. The games revolve around the major battles featured in the Star Wars films where you take up the mantle of soldiers from every side of the war from droids to clones to wookies.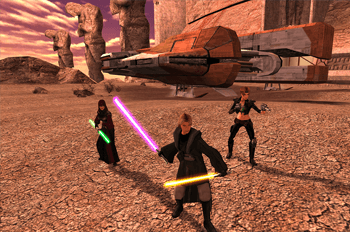 Star Wars: Knights of the Old Republic
With 2 instalments making it to release on the Xbox and PC, this RPG game is a real throw back. The game is based around the comics as you create your character and venture out into the galaxy. The choices you make and the things you do in this game will guide you down the path of light or the path towards darkness.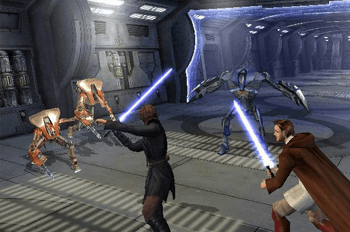 Star Wars Episode 3: Revenge of the Sith
Released in 2005 on the PlayStation 2, Xbox, Gameboy Advance and Nintendo DS, this game is based on the film of the same name. Throughout the game you flick between Anakin Skywalker during his decent into darkness and Obi Wan Kenobi as he tries to help his old apprentice.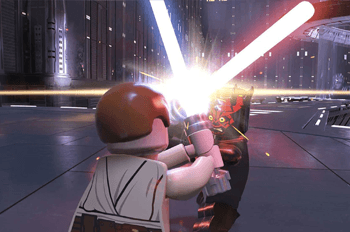 Lego Star Wars: The Video Game
The first in a long line of Lego video games, Lego Star Wars is based around the Lego Star Wars line of toys and focuses on the story of The Phantom Menace, Attack of the Clones and Revenge of the Sith with bonuses from A New Hope. Originally published for the PlayStation 2, Xbox, PC and Gameboy advance in 2004 with additional publications on Mac and GameCube later that year.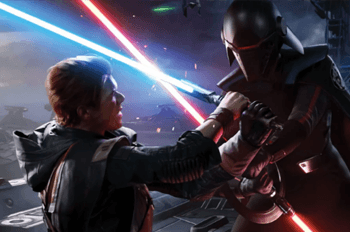 Jedi: Fallen Order
Released in 2019 on Xbox One, PlayStation 4 and Windows. This game follows Jedi Padawan Cal Kestis as he is hunted across the galaxy by 2 Inquisitors all the while trying to discover his true identity. Progress through the game as you build new relationships, hone your skills, and rebuild the Fallen Jedi Order.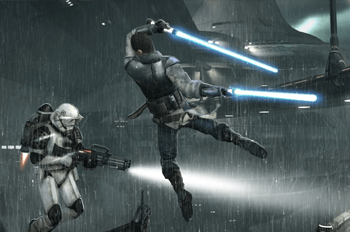 Star Wars: Force Unleashed
Released in 2009, Force Unleashed was released on a plethora of platforms including PlayStation 2&3, Wii, Xbox 360, Second Gen N-Gage, Nintendo DS and more. The game introduces a new character by the name of 'Starkiller', a secret apprentice to Darth Vader, who is tasked with exterminating the survivors of the 'Great Jedi Purge'.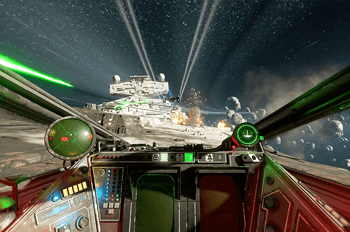 Star Wars: Squadrons
Released in 2020 on Xbox One and series X/S, PlayStation 4 and Windows. Squadrons is an immersive Star Wars based, space battle game with both an online multiplayer function and a single player campaign, in which you play as both the New Republic and the Galactic Empire.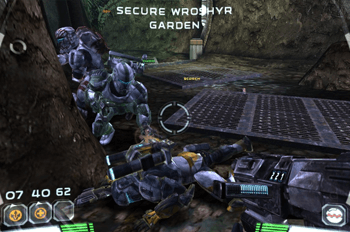 Star Wars: Republic Commandos
Released in 2005 on Xbox and Windows platforms, Republic Commandos is an insight into an elite squad of clone commandos. This first-person shooter takes you on a variety of missions as part of 'Delta Squad', combatting a variety of foes on several different planets and a spaceship.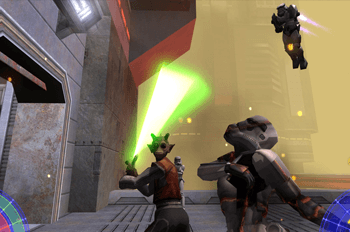 Jedi Knight: Jedi Academy
Jedi Academy is the 4th instalment in the Jedi Knight series. The story follows Jaden Korr, a fresh student at Luke Skywalkers Jedi Academy. This game was well received for its freedom and customization options as well as the lightsabre wielding gameplay, allowing the player to wield the legendary weapon right from the word go.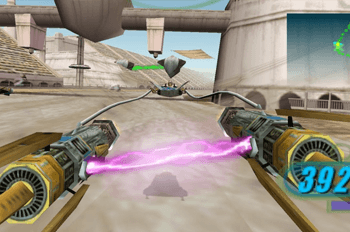 Star Wars Episode 1: Racer
Originally released in 1999 on Windows, Dreamcast, Gameboy Colour, Nintendo 64, and Macintosh, Star Was Episode 1: Racer is a sci-fi racing game based around the pod racing as seen in Episode 1, The Phantom Menace. This game allows you to play as a multitude of different pod racers including Anakin Skywalker and Sebulba on the classic Tatooine course as seen in the film as well as a bunch of others spanning to across different planets and environments.
We have tried to include a little bit of everything on this list but even with a list of this size we couldn't fit everything on! Let us know if your picks would be different or if you have any good recommendations for us to try! You can find us on Facebook, Instagram and Twitter.