Valentine's day is almost here and its looking like it might have to be another quiet night in for a lot of people. But fear not for we have put our heads together and come up with a list of our favourite games for couples to play together this valentine's day. In this list you will find a bit of everything to suit everyone's taste whether it be to test your ability to work together under pressure or to finally answer that age old question of who can kill the most post apocalypse mutated lunatics… we have something for everyone right here!
Human: Fall Flat
First on our list is the fantastic 'Human: Fall Flat'. This coop game is designed to test your practical thinking skills to overcome deceptively difficult tasks. Either watch your partner fail miserably trying to climb some stares or combine your skills to breach a castle wall. Zero-pressure gameplay combined with the simple but effective visuals create a balanced game that can be enjoyed by both new and experienced players alike.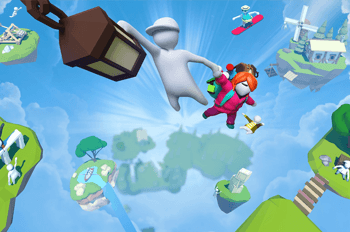 Overcooked.
The second addition to our list is the perfect couch cooking adventure. Overcooked is game that can be enjoyed by up to 4 players but is just as fun with 2 (if not more fun). This game will test your patience and ability to work as a team under pressure, as well as many other things. Be prepared to cook up a storm!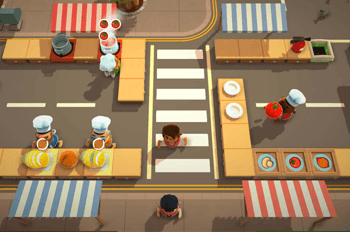 Portal 2
Portal 1 was a great game in its own right, but portal 2 introduced a new split screen mode allowing you to share the frustration of spending hours trying to figure out the puzzle and oppositely the sheer joy of finally figuring it out together! This game would be great for you couples out there seeking a challenge and wanting to test your combined brain power.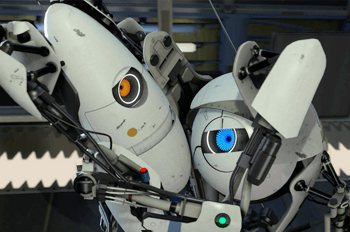 Borderlands
If you are in the mood for explosions in excess, psychotic/satire comedy, and a unique comic book style gameplay, then Borderlands is the game for you! And having that extra person to share in the gleeful destruction makes everything so much better. Pairing up to blast, loot, reload and repeat in intense gunfights and an entertaining story is a great way to spend your valentines evening!
Unravel 2
This game is one to be enjoyed by anyone, combining a breath-taking art style with a heart-warming storyline that will get you invested before you even start the game. This game provides a chilled gaming experience while maintaining a good challenge level to that will keep you and your partner hooked from start to finish.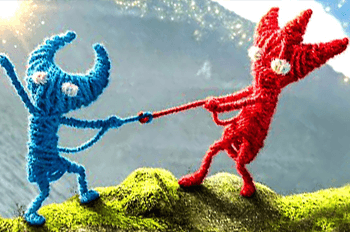 Split screen games are a bit of a dying breed in the gaming world but if you dig deep enough you can always find plenty of buried gems for you and your valentine to enjoy. Here are a few couch multiplayer honourable mentions for you to check out: 'Resident Evil', 'Rocket League', 'Castle Crashers', 'A Way Out' and of course 'Mario Kart'.
So that's the list of our favourite Co-op console games, whether you and your partner fancy a few harmless puzzles or rage fuelled frenzies of violence this valentine's day we have got you covered.
Let us know over on social any other games we've missed you and your partner are playing this valentines day.